Stephen Joseph Rain Coats for Toddlers
Toddler rain coats are an essential part of any little one's wardrobe, but finding one that's of top quality can be a tough task for parents. The good news is that here at Lavington Designs, we stock Stephen Joseph rain coats for toddlers, which are some of the best options on the market today. Let's take a look at everything you need to know about this product range and why they are some of the best rain coats to keep your kids dry when they are playing outdoors.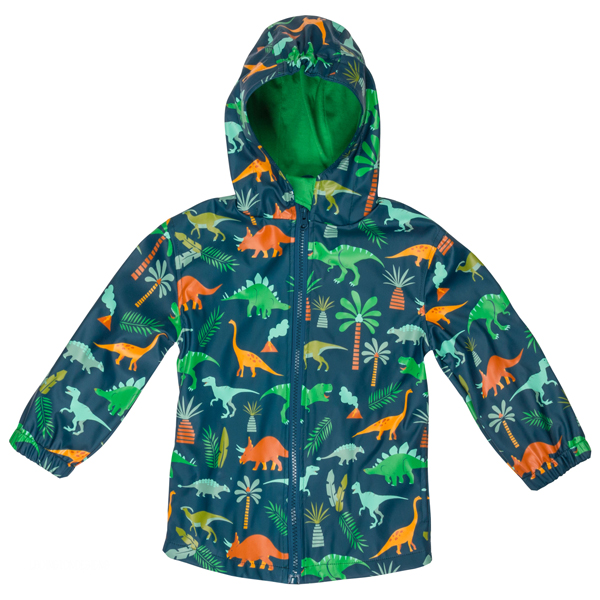 Waterproof Not Fun-Proof
While a Stephen Joseph rain coat will offer your child plenty of protection while exploring in the rain, you'll find that it won't stop them from having hours of fun outside. One of the biggest concerns for parents during the winter and rainy weather is that there children won't be able to enjoy themselves and will be stuck indoors for endless hours. The good news is that when you buy one of these toddler rain coats for your child, they'll be able to continue their favorite outdoor activities once again. You won't end up with a restless and bored child, as they'll be able to burn off their pent-up energy by running around in the puddles outdoors.
Stephen Joseph rain coats come in a range of colorful and bold patterns for young children. These stylish patterns are ideal for both boys and girls, and you'll have no trouble finding the perfect coat for your child's unique personality and style. The other thing we love about these rain coats is that many of them match with other Stephen Joseph products. You can buy a coordinating set of items, which will make your child look absolutely adorable when spending time outside.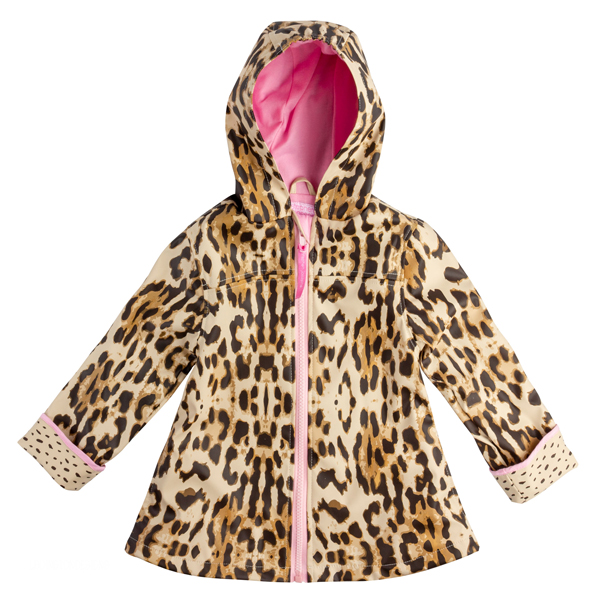 Keep Your Child Warm and Safe Outdoors
The range of Stephen Joseph rain coats for toddlers is designed for use in rain, wind, and chilly weather. As well as offering this exterior protection, the interior of each coat comes fully lined with a cotton material to keep them warm and snug. The softer outer shell will allow them to move around with ease, while still keeping any water off their body and other clothes. You'll find that many of the designs come with a wide hood and zipper, which makes it easy to take the coat on and off as needed. Finally, for your child's smaller arms and wrists, you'll find there are elastics around the wrists, which will stop any rain or dirt from getting inside the coat.
Stephen Joseph products are known for their high quality and exceptional designs, which makes them the perfect brand for an item such as a rain coat. Each of the Stephen Joseph rain coats for toddlers is made in a durable manner, with a polyurethane exterior material. This means that it will last for a long time to come, no matter what type of weather it is exposed to. You can also wash these rain coats in the washing machine, making them quick and easy to care for. Just throw them into the washing machine after a day out in the rain, and they'll be ready to wear again tomorrow.
The Perfect Fit for Toddlers
A huge issue for parents of toddlers is finding clothing that fits them well while also offering them protection from the elements. Stephen Joseph rain coats come in a variety of sizes, which will ensure they are a good fit for your child. You can browse through the full range of options on our site, which will allow you to find the right product for your child. The stretchy wrist holes and the elastic hood will be good for children who are growing quickly, as they'll have room to grow. This is something that parents will particularly appreciate, as we know how costly it can be to look after young children and keep buying them new clothes.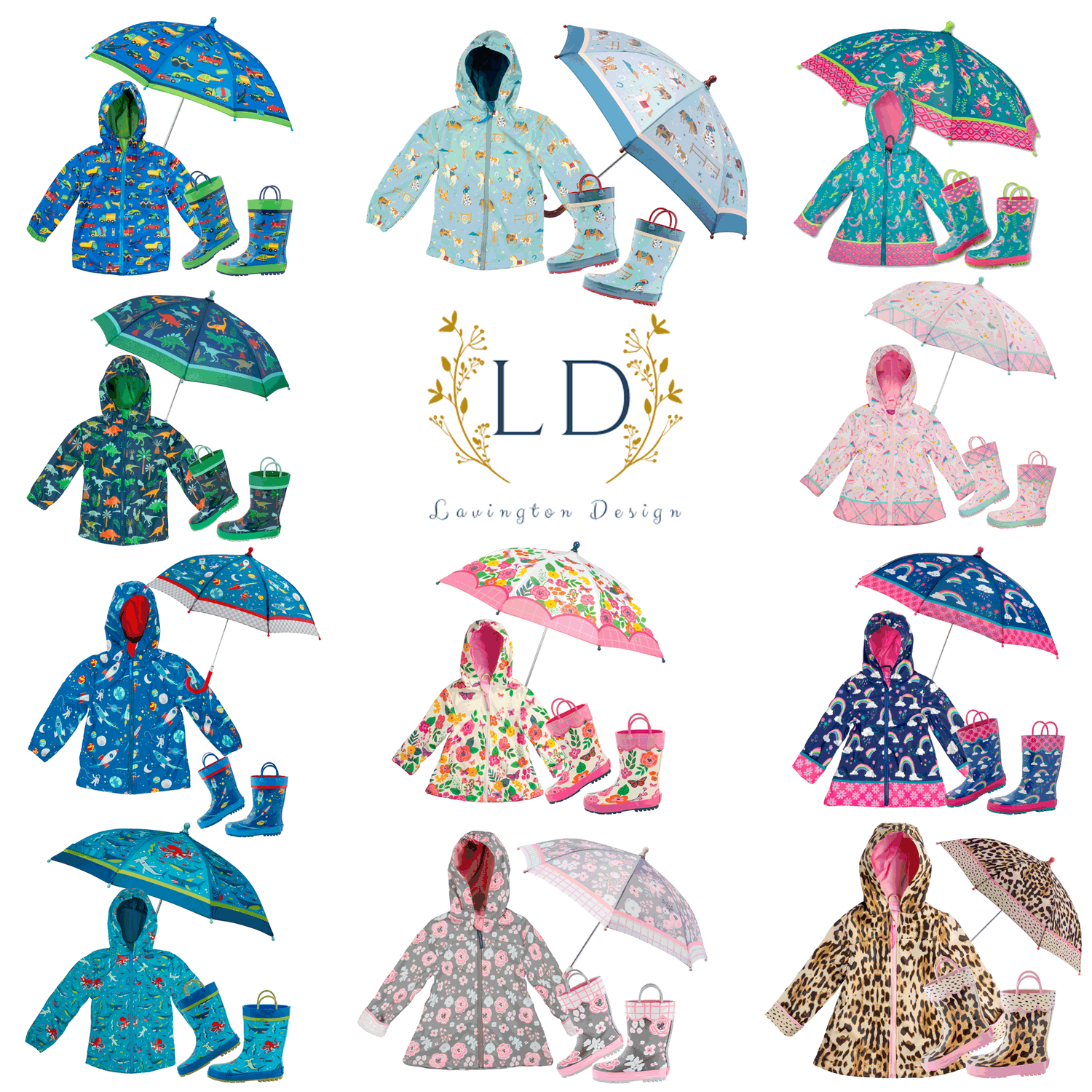 Matching Rain Gear from Stephen Joseph
After you've found the perfect rain coat from Stephen Joseph, it's time to take a look at some of the other products in their range. You can pair the rain coat with a matching umbrella, which is a fun way to introduce your little one to this accessory ready for the rainy weather. We also love the Stephen Joseph rain boots range, which will ensure your children still have fun no matter what the weather is like when you are heading out for the day. They'll keep your child's feet warm and dry inside of the boots, so you won't have to worry about them getting cold and miserable.
When it comes to other products from Stephen Joseph, we love their bags and lunch boxes for young children. The vibrant designs will suit anyone's personality, and you can be sure you'll find one that will make your little one excited to head to school each day. At this young age, we know how much a fun item of clothing or an accessory can mean to your child. Even if they don't fancy going outside one day, when they are dressed up in a cute outfit, you'll find their mood completely changes. You'll be blown away by the beautiful designs for boys and girls on offer, which are like on other brand on the market today.
As you can see, there are many benefits of Stephen Joseph rain coats for toddlers. We highly recommend investing in one of these rain coats for your child this year, as you'll find they are some of the highest quality items on the market today. On our site, you'll find a full range of Stephen Joseph products, which are suitable for young boys and girls. Our team is on hand at any time to help you find the perfect gift for your little one, as we know how much they'll love this range of exciting products. Contact us today if you have any questions about the Stephen Joseph range or enjoy shopping in our online monogram store now.