Monogramming is a fun and easy way to add a personal touch to items like bags, t-shirts, jewelry, and other accessories. It's also an easy way to customize gifts for special occasions like birthdays, anniversaries, or holidays. Before you start monogramming your initials onto items, it's important to understand the basics of how this process works. Let's take a look at the rules of monogramming so that you can get started on your custom items!
Monogramming 101
Monograms are usually made up of three letters:
The traditional method arranges them in a vertical line with larger letters in the center representing the LAST name for example: Jamie Lynn Rogers would be monogrammed as JRL with the R being larger.
The modern method arranges them horizontally with all the same size in the order of First, Middle Last like initials. Example: Robert Douglas Rogers would be monogrammed as RDR.
There are lots of great Monogram styles for Traditional Monograms.
Some of my Favorite Monogram styles for ladies are Vine, Circle, or Traditional.
For men's monograms, I like Stacked or Traditional, I am sure you will be able to find your favorites using our monogram style chart.
Monograms may also be single-letter monograms Like First Initials only or Even Last initials only.
Another popular monogram style is the two-letter monogram using first and last initials only, When monogramming your items, you will find
There is an option for everyone's unique taste.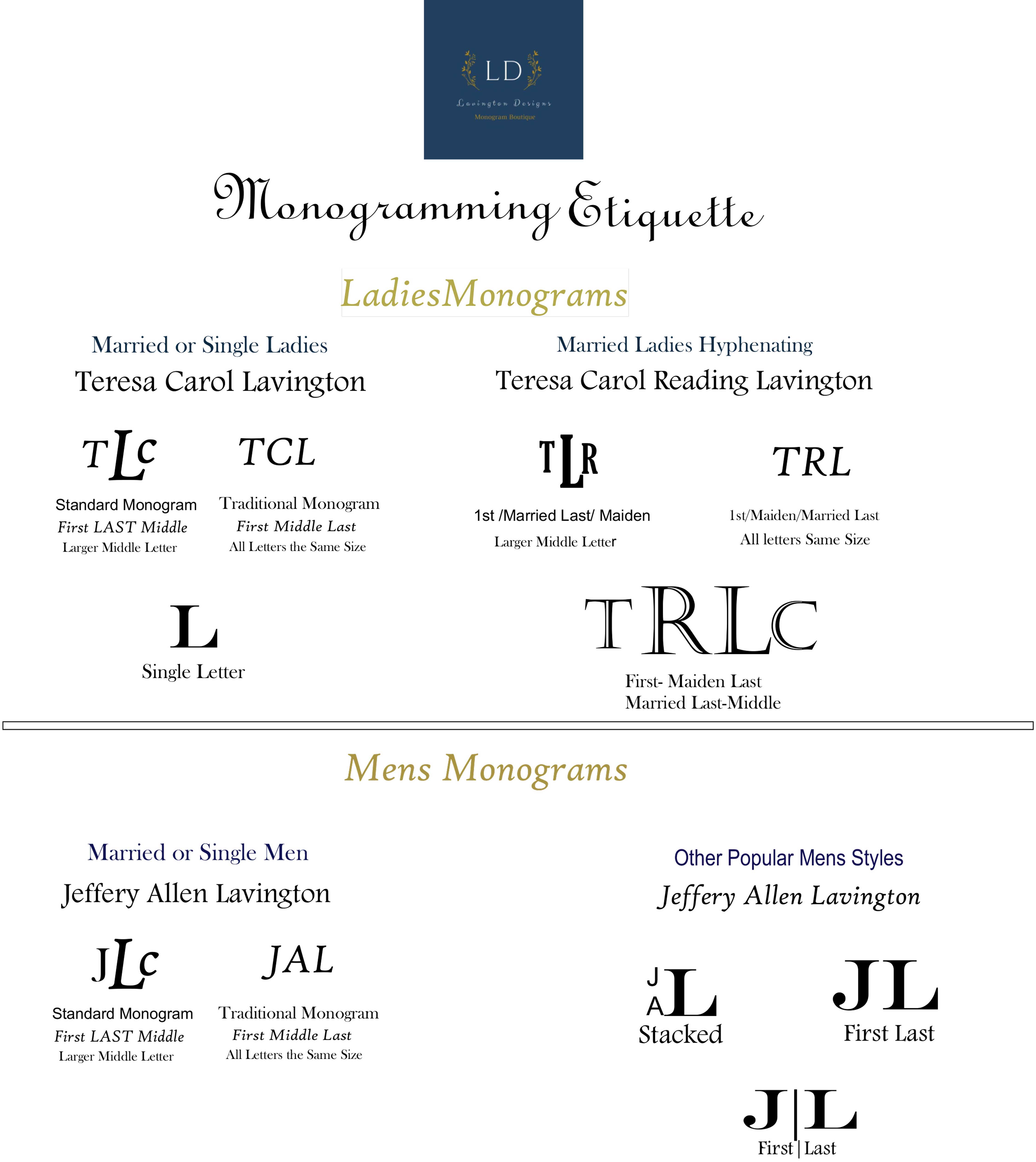 Monogramming for Couples:
When Monogramming items for couples, like pillows, napkins, or towels, we recommend the traditional style of monogramming.
Example: Teresa and Jeff Lavington. TLJ or JLT (Women or Men 1st is your preference).
For other monogramming situations, please see our more detailed monogram chart here:
Shopping our Online Monogram Store
At Lavington Designs, we also offer Design you can add to your monogram to make it even more unique, like monogram frames and accent designs, these types of designs are offered on items like pillows and blankets here are a few of the options we offer.
Monogramming is not the only option we offer here in our online monogram shop we also offer simple personalizing like adding a child's name to a backpack or superhero cape. Adding a name to a child's gift makes the item even more special and with all the unique names and spellings these days, shopping online with a
small family-owned embroidery shop is most definitely the best way to go.
Final Notes on Monogramming :
It is also important to note that monogramming should be kept at a minimum; adding multiple monograms
On an item like a jacket with a monogram or the chest and on the hat of the jacket or adding several monogrammed items to a room like monogramming toss pillows, rugs, blankets all in the same room may be considered tacky. Monogramming should remain simple and classy.
Conclusion:
Monogramming initials onto items can be an easy and fun way for young and older adults to customize their belongings or give personalized gifts without breaking the bank. As long as you follow these basic guidelines—including arranging your initials according to traditional or modern methods and using unique designs for each item—you can create beautiful monograms that will last for years to come! So go ahead - try out some different arrangements and add personal flair to your wardrobe and home decor today!