Are Monogram Bags Tacky?
A common question we receive from shoppers on our site is in regards to whether monogram bags are tacky. Here at Lavington Designs, we are pleased to offer a wide range of products in our online monogram store. We can assure you that each of our bags is anything but tacky, but it's interesting to unpack why monogram bags have sometimes been given this reputation in the past. Keep reading as we share some of our top tips for wearing monogram bags and how to avoid these looking tacky as part of your wardrobe.
Monogram bags have a long and dated history, which is why they are so popular with individuals of all ages. If you've never looked into monogram bags before, you'll find that Louis Vuitton bags are the perfect example of these types of bags. A huge concern within this industry is the need to find authentic products which aren't knock-offs of some of these larger brands. The quality of your bag will have a huge impact on whether your bag looks tacky or not, and this is why we are so passionate about offering high-quality monogrammed tote bags. By taking the time to learn about the material and how the bag was made, you can ensure you pick a bag that will look great on you.
Purchasing an Authentic Monogram Bag
Our number one tip for anyone searching for monogram bags online is to ensure you are purchasing your bags from a reliable source. At Lavington Designs, we take pride in each product that we sell online. Our monogram shop stocks a wide range of products, all of which are created with care and love. You'll find that we have an extensive range of products, ranging from personalized backpacks for kids to stylish designs for adults. When it comes to choosing a monogram bag, make sure you always put quality first. It can be so tempting to look for the cheapest price today, but that's where these bags start to look tacky.
The Material of Your Monogram Bag
Another thing to consider when purchasing any type of bag is the material it's made from. The types of material that people use for bags often depend on the season and current trends, but try not to be too heavily swayed by these. When you buy into the current trends, you'll often find that you miss out on classic and timeless designs. When you invest in a monogrammed tote bag that has a classic style, you'll be able to enjoy using it for many years to come. You don't need to worry so much then about whether your bag is tacky or not, as you'll have a timeless piece to add to your wardrobe.
Are Monogram Bags for Show-Offs?
One of the reasons that some people don't want to purchase a monogram bag is that they are often considered very flashy and just for show-offs. This can be true when it comes to some designer bags, but it's all about the color and style of the bag when it comes down to it. On the other hand, if you are spending your hard-earned cash on a fancy bag, you may want other people to know what designer you purchased it from. Some people believe that bags without logos look more elegant, but it's all about the quality of the bag that you purchase. Any brand can create a tacky bag if it doesn't suit your personal style, so you need to make sure you choose items that are truly reflective of your personal taste.
One of the reasons we love monogram bags is that they are anything but boring. A lot of people find that high-end fashion bags with a more minimalist style are just dull. If you are looking to make a statement when you walk into a room, a monogram tote bag is certainly going to turn heads. These bags stand out anywhere you take them, and everyone will know where you purchased your latest fashion item from. If you are going to spend the time and money investing in new items for your wardrobe, you may as well be confident in showing them off to your friends. That's why we are proud to offer a huge range of brands and products on our site, all of which will look great whenever you wear them.
How to Avoid Tacky Monogram Bags
There's no denying that some monogram bags do look tacky, but it's all about finding the right bags to avoid this issue. When you look through monogram shops online, take care to read all of the information about the item you are looking to purchase. You can review the material that the bag is made from and take your time to inspect the bag's design and unique features. Not every monogram bag looks the same, which means not every bag will be tacky. It's all about taking your time to ensure that the item you are purchasing online will look the same in real life. There's nothing worse than receiving an item in the mail, only for it to look nothing like it did online. You can be sure anything you receive from our site will be of the highest standard, so you can take it out and start wearing it straight away.
On our site, you'll find a full range of products, many of which come from some of the world's top brands. We are excited to offer a wide range of monogram bags, all of which will look great when worn during any occasion. Our team will be on hand at any time to help you decide which bag would make the best addition to your wardrobe. We encourage you to take a look through our full selection of bags and products, as we are sure you'll find something that's perfect for your needs. Contact us today if you do have any questions about our products, and we'll be here to help you at any time to find the perfect item for yourself or a gift for your loved ones this year.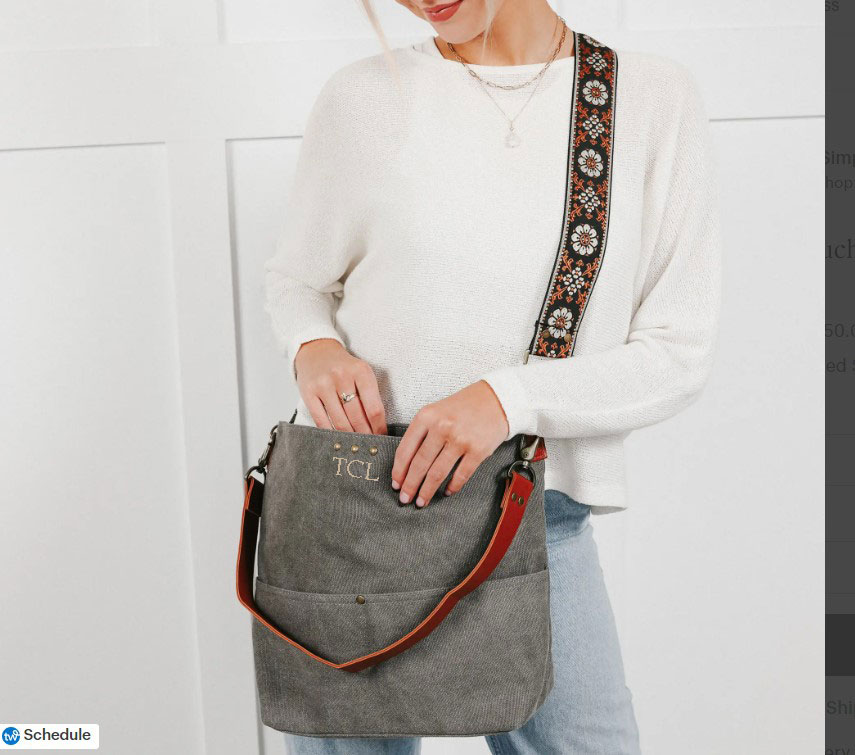 Monogramming your Bag with Lavington Designs
For the Monogram we size the font to properly fit the item, a purse or backpack monogram should be small around 1in or less for most bags, however beach bags or oversized totes can have larger fun monograms. Remember a monogram should be stylish and sophisticated not flashy.
Think about using thread colors that are neutral or monochromatic colors of a everyday purse or tote, if your monogramming a beach tote or a oversized tote for fun than feel free to use bright bold color after all its for FUN !!
But always keep it to one monogram on a bag so its not tacky.